Great Work and Great Thanks to you A_C, you did a good program !
Leies.
S2U2 v0.95 – beyond the basic
From A_C :
Orginial Thread from XDA :
http://forum.xda-developers.com/showthread.php?t=353008
" Hey guys,
It's almost a month after the last update of S2U2. Take a deep breath & enjoy this early Christmas joy…
– added GIF format support to Wallpapers; with option GifSpeed to control the animation speed. (there is no GIF file included in the CAB file as I don't want to get into any copyright trouble)

– added option to select a directory for S2U2 to change the wallpapers (*.jpg) automatically; with option to control the changing period & change them randomly.
– added support to display over-sized Wallpapers.
– added option to change the font of the Clock (clock\, clockH\ or clockHS\).
– added option to display an Analog Clock (clockA\).

(From left to right: clockH\, clockHS\ & clockA\)
– added ARGB PNG format support to all graphics files.
– added ShowWeather to retrieve today's weather forecast from other weather applications. For UserWeather, you have to manually update the registry key UserWeather (STRING) under \HKEY_CURRENT_USER\Software\A_C\S2U2. The format is "icon|index|high temp|low temp" where icon is S, P or W.
– added SIM card support to CallerID.
– added option S2AEndKey to enable/disable the End key when S2A is activated.
– added option NoSoftKey to hide all soft buttons. But how to UNLOCK? Press the RIGHT-DPAD.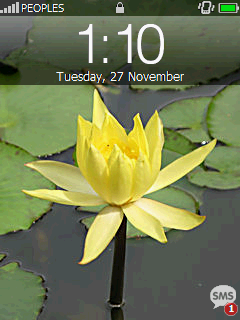 – added option TopCurtain to enable/disable the display of the topbar.png.
– added the BT headset status icon.
– added an Exceptional applications list that when these applications are running, S2U2 will not start automatically. (Edit the Registry, under \HKEY_CURRENT_USER\Software\A_C\S2U2, add a key ExceptionEXE0 (STRING) with the name of the application (e.g. iexplore.exe). A total of 10 (0-9) ExceptionEXE can be added. Then restart iLock2.)
– fixed the issue that DirectDraw could not be used when the device is in Landscape.
– fixed the issue when S2A is enable, the BT headset button did not work.
– fixed the issue when "Password/Pin Lock" or "Owner Information" are enabled.
– changed some wordings of "s2u2 Settings.exe"
– some bugs fixed
I'm quite excited about this release. Not only because a lot of features are added, it now can read ARGB PNG format graphic files. Meaning that you can tailor S2U2 even further through different level of opacities, and I'm expecting more themes from you guys in the near future.
CAB files (Thanks Xenpain for hosting the file)
http://ac.xenpage.eu/S2U2-0.95-WM5.rar
http://www.mediafire.com/?81jqjymnlii
Language Pack (Afrikaans, Chinese (Simplified & Traditional), Czech, Danish, Dutch, French, German, Greek, Hebrew, Hungarian, Indonesian, Italian, Korean, Macedonian, Norwegian, Polish, Portuguese, Portuguese BR, Romanian, Russian, Slovak, Slovenian, Spanish, Swedish & Turkish) Most of them are still not completed yet. Read the LangReadme.txt for the changes. Please let me know if you can complete them.
http://ac.xenpage.eu/S2U2LanguagePack.rar
http://www.mediafire.com/?7mu0gbd2wco
Clock Pack
http://ac.xenpage.eu/S2U2ClockPack.rar
http://www.mediafire.com/?7hltdx29ee3
For details, as usual, please read the Readme file or the next post.
Besides, please read the README FIRST, especially the Known limitations & FAQs before posting your questions here.
Finally, to show your appreciation, pls CLICK HERE to make a donation.
Merry Christmas!
Facebook comments:
comments